Overview
Winger Cargo is designed keeping in mind the modern and urban consumer who wants high performance with premium styling and superior features. The Tata Winger Cargo is built to fulfill the needs of a growing market. Designed for productivity and years of service, Tata Winger Cargo reflects the years of automotive expertise developed by Tata Motors. This ensures that the fully built Tata Winger Cargo is an ideal solution for major captive-based applications which call for speed, safety, comfort and convenience along with transportation of goods with safety and style.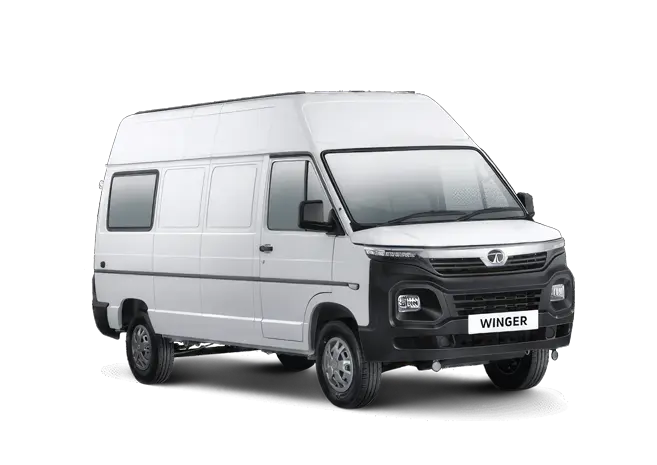 Winger Cargo Features
In addition to a sturdy and rugged 'premium tough' body, the Tata Winger Cargo van offers the power of protection through a semi-forward face that adds to the safety.
The aerodynamic and sleek, Tata Winger Cargo van's cockpit-type design of the cabin ensures enhanced driver ergonomics for higher comfort. The D+2 seating provides ample space for occupants, while the 3-way adjustable driver's seat.
Enhance your returns with the Tata Winger Cargo van's compact engine compartment, which ensures a better cargo loading area, along with internal height for ease of loading & unloading of goods.
Tata Winger Cargo van is built with the 'premium tough' design philosophy which enhances style and aesthetics without compromising on sturdiness and durability. Along with sturdy front and rear suspension, the Tata Winger Cargo van offers 195 R 15 LT tyre
The ECO Switch is designed to provide optimum usage of fuel for enhanced savings. The gear shift advisor is designed to help drivers change gears at the right moment, which greatly improves fuel efficiency.
Tata Winger Cargo van is powered by a reliable and fuel-efficient TATA 2.2L BS 6 (2179 cc) engine. It offers a staggering maximum Power of 73.5 kW (100 HP) @ 3750 r/min along with a highly useful maximum Torque of 200 Nm at 1000-3500 r/min.
Winger Cargo Specifications
FRONT BRAKES : Vaccum assisted Hydraulic, Disc brake
REAR BRAKES : Drum brake with LSPV

Single plate dry friction - 215 mm dia

Engine Type -Tata 2.2l (2179 cc)
MAX ENGINE OUTPUT - 73.5 kW @ 3750 r/min
MAX ENGINE TORQUE - 200 Nm @ 1000 - 3500 r/min

FRONT SUSPENSION : McPherson Strut with coil spring
REAR SUSPENSION : Parabolic Leaf springs with hydraulic telescopic shock absorbers

195 R 15 LT
TURNING CIRCLE RADIUS : 6750 mm

GROUND CLEARANCE (MM) : 185 mm
HEIGHT (MM) : 2460 mm
INTERNAL CARGO DIMENSIONS : 3240 mm X 1640 mm X 1900 mm
LENGTH (MM) : 5458 mm
TURNING CIRCLE RADIUS : 6250 mm
WHEEL BASE (MM) : 3488 mm
WIDTH (MM) : 1905 mm

ENGINE OIL CHANGE INTERVAL : 20000 kms
WARRANTY (ON DRIVELINE) : 3 year or 300000 km( whichever is earlier)

GVW(KG) : 3 490 kg
KERB WEIGHT(KG) : 1810 kg
PAYLOAD(KG) : 1680 kg

Winger Cargo Image Gallery
Book Your Winger Cargo Now
(Please note that our booking form is currently undergoing development. No live payment transactions could be performed currently. )