Overview
Tata Intra V30 offers a payload of 1300 kg, with its gross weight of 2565 kg. Engine powering this Tata small commercial vehicle is 1496 cc 1.5L DI engine, producing a maximum power of 70 HP and a high end torque of 140 Nm. Tata Intra V30 runs on diesel fuel and complies with BS6 emission norms. Power transmission duty in Tata Intra V30 is being done by 5 speed (5F+1R) gearbox. A load body size of 8.8 x 5.3 ft allows the Tata pickup / mini truck owner to carry multitude of loads. Front suspension equipped in Tata Intra V30 is semi elliptical leaf spring and the rear suspension duty is taken care of by semi elliptical leaf spring. You can compare Tata pickups and mini trucks with other small commercial vehicle manufacturers at the compare section of TrucksBuses.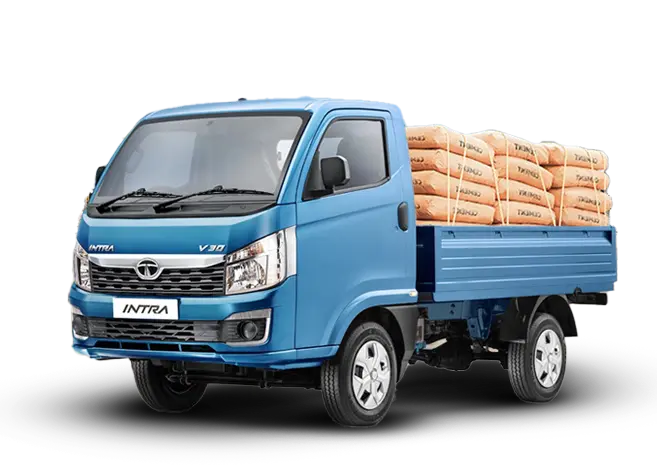 Intra V30 Features
Intra V30 because of its rugged & reliable aggregates is capable of high load carrying capability. With its powerful engine as well as a big & comfortable walk-through cabin, customers can go on long lead applications ensuring high revenues
Intra V30 has a loading area of 2690 mm x 1607 mm (8.8 x 5.3 feet). This large & wide loading area facilitates owners to load more cargo, and earn extra revenue & thereby enhancing their profits. It also has bigger 185 R14 tyres (14" radial tyres)
Intra V30 has a bigger, newer and more rugged 1496 cm3 (cc) engine for high performance. This engine generates power of 52 kW @ 4 000 r / min (70 HP) & torque of 140 Nm @ 1 800-3 000 r/ min. Intra V30 accelerates from 0-60 kmph in 13.86 seconds ensure
Standard warranty of 2 years or 72,000 kms, the 24-hour toll-free helpline no (1800 209 7979) for any emergency assistance, and offerings like TATA Samarth & Sampoorna Seva package ensure complete peace of mind.
Intra V30 has leaf spring suspension (5 leaves in front, 8 leaves in rear). Strong leaf spring suspension enhances the load-carrying ability of the vehicle. Ground clearance of 175 mm increases its capability to be deployed even in poor road conditions.
Intra V30 has a new gen, bigger and wider walk through cabin with D+1 seating arrangement. Dashboard mounted gear lever & comfortable seats not only ensure a relaxed driving experience but also offer a good resting experience. Electric Power Assisted
Intra V30 has both the gear shift advisor (GSA) as well as Eco Switch. The GSA indicates on the instrument cluster the optimum point for shifting gears (using arrows). The vehicle has two driving modes: ECO and NORMAL. Driver can switch to ECO mode via
Intra V30 Specifications
Max. Torque - 140 Nm @ 1800-3000 r/min

Electric power-assisted steering

Type (Front & Rear) - Semi-elliptical leaf springs

Ground Clearance - 175 mm
Load Body (Length x Breadth) - 2690 mm x 1607 mm

Standard Warranty - 2 years/72000 km

Gross Vehicle Weight - 2565 kg

Book Your Intra V30 Now
(Please note that our booking form is currently undergoing development. No live payment transactions could be performed currently. )