Overview
The T.7 Ultra is the latest Premium offering from Tata Motors in Light Commercial Vehicle segment under the world-class Ultra Platform. This is India's first LCV offering meeting International standard Crash Tested comfortable and stunning Ultra Narrow Cabin, designed and developed for Indian road conditions redefining transportation industry, leveraging enhanced technologies blending ideally both technology and economy of operations. The T.7 Ultra would best fit for the city transportation needs as the truck is designed to address the agile goods movement across all business applications.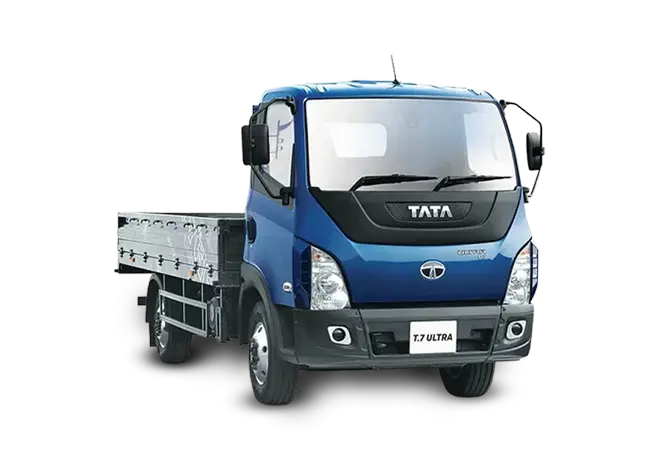 T.7 Ultra Features
Parabolic suspension with rubber Bush for better stability with any load on any terrain
Lower NVH with improved engine mounts
Dust free working sites | Higher Ground Clearance | Less Maintenance costs
CX-Yes,LX-Yes

No hub greasing required for 4500hrs/5L Kms
Saving in maintenance cost | Higher running uptime
CX-No,LX-Optional

Banjo Type Rear Axle, More Load carrying capacity, less prone to leakage

Display Trip Indication, Fuel, DEF Level Indicator, Air Pressure, Speed, Brake, Seat Belt, Temperature, Fuel Economy, DPF Regeneration, Time, Trip, SCR fault-related indications, Gear Shift Advisor, Etc.

High Quality Music System with Blaupunkt Speakers and High Speed USB Mobile Charger
Light loadbody with improved internal deck lengths
Enhanced brake life | Low chance of tyre burst due to heating| Less Maintenance costs
CX-Yes,LX-Yes

For Comfort & ease of the driver

The legendary 4 SPCR Engine improvements in BS6:
Max Power is 100 kW @ 2800 r/min, Increased by 18% for Better Turnaround
Max Torque is 300 Nm @ 1200 -2200 r/min , Increased by 20% for More Pulling Power
Low End torque is 2
AIR Brakes with a Separate Vacuum pump on the engine
Service Interval of 40 K KMs
Rear axle oil change interval is improved from 80k kms to 120K kms. Hub Grease change interval from 80 K to 120 K Steering oil change interval is improved from 80k km to 120000 kms
2018 Design Excellence Award winner: -Modern Ultra Narrow Cabin, India's First Crash Tested Steel cabin Aesthetically designed Narrow Cabin with 1900 mm width and elegant looks
T.7 Ultra Specifications
Brakes Air Brakes with auto Slack Adjustor

Load body Height (in mm) CBC: NA, HDLB: 1936 (6.35 Ft), FSD: 412 (1.35 Ft)
Load body Length (in mm ) CBC: NA, HDLB: 4136(13.56 Ft), FSD: 3670(12.04Ft)
Load body Width (in mm ) CBC: NA, HDLB: 1931.5(6.33 Ft), FSD: 31955(6.41 Ft)
Minimum Ground Clearance(in mm ) 192
Minimum Turning Dia (in mm ) 13000

Overall Height (in mm) CBC: 2450, HDLB: 2640, FSD: 2450
OVERALL LENGTH (in mm) CBC: 5720, HDLB: 5770, FSD: 5770
Overall Width (in mm) CBC: 1905, HDLB: 2050, FSD: 2050

Cabin Ultra Narrow
ClutchSingle plate dry friction type- 280 mm dia
Displacement/ Cubic capacity 2956cc
Engine Type 4SPCR BS6
Maximum Power Output(in kW)100 kW @ 2800 r/min
Maximum Torque (in Nm)300 Nm @ 1200 -2200 r/min
Transmission G400, 5 Speed, Manual Synchromesh Gearbox (5F, 1R) PTOP

Steering System Tilt and Telescopic Power Steering

Front Suspension : Parabolic leaf spring, Hydraulic Double acting Shock Absorbers
No of tyres: 235/75 R 17.5, 14 PR, Front 2, Rear 2, Spare 1
Rear Suspension : Semi elliptical leaf spring, Hydraulic Double acting Shock Absorbers

Gross vehicle weight (in kg) CBC: 7300, HDLB: 7300, FSD: 7300
Permissible - FAW(in Kg) CBC: 3290, HDLB: 3290, FSD:3290
Permissible - RAW (in kg) CBC: 4010, HDLB: 4010, FSD: 4010
Wheelbase(mm) CBC: 3310, HDLB: 3310, FSD: 3310

Book Your T.7 Ultra Now
(Please note that our booking form is currently undergoing development. No live payment transactions could be performed currently. )