Overview
Tata Signa 1923.K is a tipper with gross vehicle weight of 18500 kg. Powering this Tata tipper is 5635 cc 6 cylinder, Cummins ISBe 5.6L engine. Tata Signa 1923.K tipper produces of power and 850 Nm of maximum torque. The engine of this Tata Signa 1923.K tipper is matched to a 6 speed (6F+1R) gearbox. This Tata Signa 1923.K tipper comes in 4x2 axle configuration. Chassis underlying this Tata Signa 1923.K tipper is ladder type straight frame. Signa 1923.K tipper rear suspension duty is done by semi elliptical leaf springs,with auxiliary springs.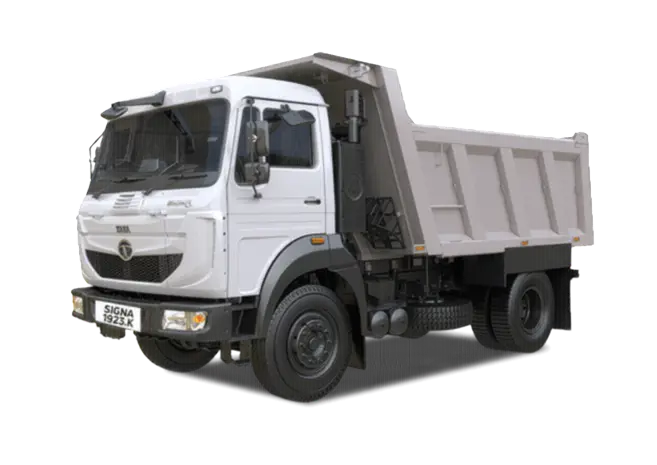 Tipper SIGNA 1923.K Features
Load - Terrain - Speed-based Fuel Economy management (2M-5L II 3M- 6.7L)
Advanced Driver Information System | Self-Diagnostic signalling | Trip Mileage Indicator
Enhances Safety. Reduces accidents.
Advanced features for Fleet, Trip & Business Management
Conducive ride comfort | Better ventilation for drive comfort
Telematics-enabled Fuel theft monitoring
Savings in undue fuel expenses
Lower cost of operations
Lower power consumption | Longer durability
Higher Riding comfort | Protection from heat, dust, and noise | Better trip turnaround time
Adaptability to different driving habits and driver sizes
Higher driving convenience | Better steering comfort due to improved steer ratio
Supports driver & vehicle safety with efficient braking
Reduces fatal accident chances | Increases safety - reduces accidental costs
Better braking in the downhill operations
Enhanced brake life | Low chance of tyre burst due to heating | Less Maintenance costs
Better fuel economy through reduction of body weight, yet retaining/increasing body strength
No hub greasing required for 4500hrs/ 5L Kms
Saving in maintenance cost | Higher running uptime
300L Lesser refills | Longer uninterrupted | Lesser chances of fuel theft
Impact resistant | Corrosion Resistant | Strong & reliable
Tipper SIGNA 1923.K Specifications
Front Axle : Forged I beam Reverse Elliot type - Drop beam
Rear Axle : Single reduction, extra heavy duty, hypoid gears, fully floating axle shafts with Differential Lock

CAB : Comfortable and Spacious SIGNA Cabin

380 mm Dia Push type Single Plate Dry Friction

Cummins ISBe 5.6 BS-VI
Max Power : 164 kW @ 2300 r/min
Max Torque : 850Nm @ 1000-1600 r/min

Frame : Fully reinforced Ladder type heavy duty frame with Riveted/bolted cross members

Fuel Tank : 300L Heavy duty Polyethylene (HDPE) Tank

Front Suspension - Leaf springs
Rear Suspension - Semi Elliptical Leaf Springs with Helper springs

Weight Gross Vehicle Weight : 18500 kg

Wheelbase Option : 3580 mm

Tipper SIGNA 1923.K Image Gallery
Book Your Tipper SIGNA 1923.K Now
(Please note that our booking form is currently undergoing development. No live payment transactions could be performed currently. )