Overview
TATA Intra is a range of compact trucks built on TML's new 'Premium Tough' design philosophy for commercial vehicles that combines rising levels of visual richness and sophistication with robustness and reliability. Intra V10 is for those customers who ply their vehicles in moderate load and moderate lead applications. Intra V10 has a new BSVI compliant DI engine that generates 33 kW (44 HP) of power and 110 Nm of torque with a best in class gradeability of 43%. The vehicle comes with an Eco Switch as well as a Gear Shift Advisor (GSA) which ensure that the customers get best in class fuel efficiency. Electric Power Assisted Steering (EPAS) not only lessens the steering effort but also makes manoeuvring the vehicle that much easier. A TCR of 4.75 m and compact footprint make it easily deployable on even the most congested of city roads.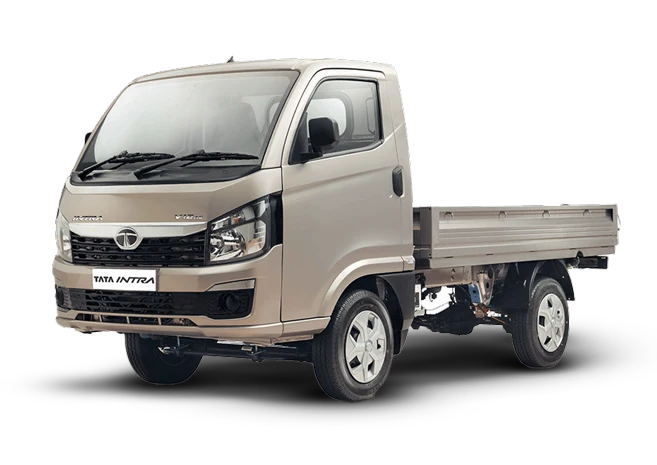 Intra V10 Features
V10 can be deployed in moderate-load & lead applications, ensuring higher profits for the customer. A compact footprint & a small TCR make it easier to manoeuvre V10 even in congested parking spots of cities and commercial locations.
Standard warranty of 2 years or 72,000 kms , the 24-hour toll free helpline no. (1800 209 7979) for any emergency assistance, and offerings like TATA Samarth & Sampoorna Seva package ensure complete peace of mind.
Intra V10 has a loading area of 2512 mm x 1 603 mm (8.2 x 5.3 feet). This large loading is suitable for moderately heavy and voluminous loads. 165 R 14 tyres (14-inch radial tyres) ensure that the vehicle can be deployed in varied terrains.
Intra V10 has a 2 cylinder 798cc DI engine which produces power of 33 kW (44 HP) @ 3 750 r / min & torque of 110 Nm @ 1750 - 2500 r / min. The chassis frame has been manufactured using a hydroforming process.
Intra V10 has leaf spring suspension (6 leaves in front, 7 leaves in rear). Strong leaf spring suspension enhances the load carrying ability of the vehicle. Ground clearance of 175mm increases its capability to be deployed even in poor road conditions.
Intra V10 has a new generation, a bigger and wider walk-through cabin with a D+2 seating arrangement. Dashboard-mounted gear lever & comfortable seats not only ensure a relaxed driving experience but also offer a good resting experience.
Intra V10 has both the gear shift advisor (GSA) as well as Eco Switch. The GSA indicates on the instrument cluster the optimum point for shifting gears (using arrows). The vehicle has two driving modes: ECO and NORMAL.
Intra V10 Specifications
Engine Capacity - 2 Cylinder, 798 cc DI Engine
Max. Engine Output - 33kW @ 3750 r/min
Max. Torque - 110 Nm @ 1750-2500 r/min
Max. Torque - 140 Nm @ 1800-3000 r/min

Max. Gradeability - 43%
Max. Gradeability37%

Electric power-assisted steering

No. of Leaves - Front-2, Rear-7
Type (Front & Rear) - Semi-elliptical leaf springs

Ground Clearance - 175 mm
Load Body (Length x Breadth) - 2512 mm x 1603 mm
Load Body (Length x Breadth) - 2690 mm x 1607 mm
Min. Turning Circle Radius - 4.75 mm
Overall Length - 4282 mm
Wheel Base - 2250 mm

Standard Warranty - 2 years/72000 km

Gross Vehicle Weight - 2120 kg
Gross Vehicle Weight - 2565 kg
Max. Payload - 1000 kg

Book Your Intra V10 Now
(Please note that our booking form is currently undergoing development. No live payment transactions could be performed currently. )