Overview
Tata Ultra K.14 is a tipper with gross vehicle weight of 14250 kg. Powering this Tata tipper is 3300 cc 4 cylinder, 3.3L engine. Tata Ultra K.14 tipper produces 155 HP of power and 450 Nm of maximum torque. The engine of this Tata Ultra K.14 tipper is matched to a 5 speed (5F+1R), With cable shift gearbox. This Tata Ultra K.14 tipper comes in 4x2 axle configuration. Chassis underlying this Tata Ultra K.14 tipper is ladder type with cross members. Ultra K.14 tipper rear suspension duty is done by semi elliptical leaf springs,with auxiliary springs.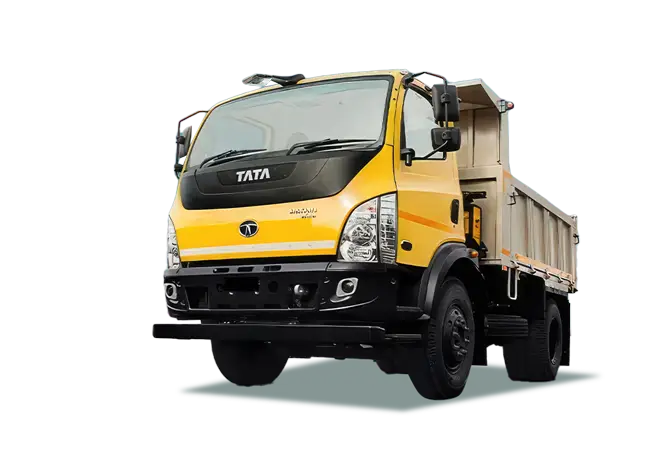 Tipper K.14 Ultra Features
Air Condition cabin with 4 Blowers
Wide Day Cabin - Aesthetically designed Wide Day Cabin with elegant looks
45-degree tillable cabin- Easy engine access, easy maintenance
Dash mounted gear level- Makes it a walkthrough
Ultra Cabin Features:
New generation c rash-tested walk-through AC Cabin with appealing, futuristic styling & aerodynamic design.
Enhanced safety features meeting European safety norms.
Tested for front impact, roof, rear wall crash, as per ECE R 29A, B,C.
Better EBHS| Better NVH.
Superior heat and noise insulation.
Low Hysteresis clutch along with high size clutch booster Lower Pedal Effort.
ABC Pedals: Improved Ergonomic pedal positions to reduce fatigue.
Steering
Integrated hydraulic power steering- stability at high speed.
Tilt & telescopic – adjustable to any driver with respect to his height.
Four spoke soft touch steering wheel for superior driving comfort.
Low steering effort.
Comfortable Seating
Mechanically suspended 3 way adjustable seat made of Melba Fabric for better comfort both in summer and winter.
D+2 seating configuration, bucket seat for driver, bench seating for co-passenger.
Height adjustable driver seat.
Integrated headrest and armrest in centre.
Reduces driver fatigue, increase overall driving comfort.
DEF (Diesel Exhaust Fluid) Tank Capacity (applicable in Diesel Vehicles): 18 L
Improved Braking: Air Brakes with ABS
Advanced Driver Information:
New gen multi display electronic cluster with anaglog as well as digital display
Display trip indication(km/l) - fuel, water, low, air pressure, speed, brake, seat, belt, temperature, economy, assistance, time, neutral position, DPF lamp, DEF level, DEF reserve indicator, SCR Malfucntion, Service Reminder, Trip based fuel Econmony, Distance to Empty, Driver message Screen for any malfunction, Driving mode lamps, overspeed warning lights, Power Take off Sign etc
Headlamps- New generation stylish clear lens lamp
Tail Lamp - Integrated with LED Lamps for the first time in a commercial vehicle
3.3Litre New Generation BS6 Engine: The New Generation 3.3L BS6 engine with higher B10 Life to improve the reliability, reduce maintenance cost, Improved Drivability because of improved Low end torque and Flat Torque Range-Better Mileage. Dual FE mode for improved Mielage and performance
Easy to enter/exit for both driver and co-driver
Stylish looks in sync with body design, curves & arches
Dashboard & Connectivity:
DPF filteration / Generation on & off Switch.
Driving mode selection Switch.
Internal Connectivity
High Quality Music System with Blaupunkt Speakers and High Speed USB Mobile Charger
New Multi-Function Ergonomic Instrument Cluster, Other Tell Tale Symbol on instrument cluster , Gear Shift Advisor in Instrument Cluster
White Illumination Facia and Ignition Switches
External Connectivity
ILCV Ultra Cargo Range vehicles having connectivity as basic feature for Drivers , owners , fleet managers. Vehicles are connected through APP Aas well as Portal
Service interval 40000 Kms/1 Year.
All the intervals are mapped and syncronished with Engine Oil Interval. Hence no more time of vehicles being spend at workshop
Rear axle oil change interval 120K kms. Hub Grease change interval 120 K
Steering oil change interval is improved to 120000 kms
Coolent Change interval is improved to 240000 kms
9x20-16PR Tube Tyre:
Bigger 9 x 20 Tube Tyre.
Better Torque on the wheel.
Higher Tyre life.
Less rolling resistance- Better fuel economy.
Easier steerability & better driving comfort.
For Comfort & ease of the driver
TATA RA 109RR Single reduction hypoid gears, fully Floating axle shafts (RAR - 6.42)
7 mm thick riveted/Bolted Chassis frame made with HSS 800 high strength steel with high tensile strength
Strongest chassis in its class Single piece frame for Engine mountings updated inline with BS 6 engines
Serrated Coupling flange propeller shaft for better Reliability and Maintenance in full Ultra range
Separate Vacuum pump on engine for efficient Braking
E Waste gate turbocharger and E-Viscous fan to improve the performance and mileage of the vehicle
Tipper K.14 Ultra Specifications
Parking Brake :Graduated valve controlled spring brake chamber integral with rear brake

Clutch Single Plate Dry Friction Type, 330 mm Dia

Battery 12V, 100 Ah capacity, Alternator 120 Amps

Frame: Ladder type frame with riveted/bolted cross members.

Load body Height (in mm ) CAB: NA, HSD: 940
Load body Length (in mm) CAB: NA, HSD: 3260
Load Body Platform Area (m3)-Inner CAB: NA, HSD: 7 CuM FET
Load body Width (in mm ) CAB: NA, HSD: 2345
Minimum Ground Clearance(in mm ) 255 mm
Minimum Turning Dia (in metres ) 12
Warranty 3 years or 300000 km, Whichever is earlier*

Overall Height (in mm) CAB: 2650, HSD: 2980
Overall Length (in mm) CAB: 5475, HSD: 5915
Overall Width (in mm) CAB: 2440, HSD: 2690
Wheel base (in mm) CAB: 3160, HSD: 3160

Max. Gradeability (1st Gear) 36.5%

Displacement/ Cubic capacity 3300cc
Maximum Power Output(in kW) 155 HP@ 2600 r/min
Maximum Torque (in Nm) 450 Nm @ 1500-2200 r/min

Steering System: Tilt & Telescopic Power Steering

Rear Suspension Semi Elliptical with Semi Elliptical Aux springss
Type (Front & Rear) - Semi-elliptical leaf springs

G550, Manual Synchromesh Gearbox (5F, 1R)

Permissible - Front Axle Weight - FAW(in Kg) 4920 Kgs
Permissible - Rear Axle Weight -RAW (in kg) 9330 Kgs
Weight Gross Vehicle Weight : 18500 kg

Tipper K.14 Ultra Image Gallery
Book Your Tipper K.14 Ultra Now
(Please note that our booking form is currently undergoing development. No live payment transactions could be performed currently. )