Over View
The Legend of trucking the prestigious 407 Ex/ EX2 33WB returns in an all new avatar as The TATA 610 SFC. Taking pride as the truck with 'The Best value for money LCV Truck', the 610 SFC has much to offer with it's Improved product and driver packages, enhanced connectivity and Gradeability, lower cost of ownership, thus making it the most desired LCV in India. In addition, Tata Motors is the ONLY manufacturer in India selling the SFC Styled Cabins with the 'Unique NOSE' for highest levels of safety. This truck has won the hearts of the Owners and Drivers alike and if you're looking out for a 6 Ton Cargo Truck with a 3048 mm Deck length, this truck is yours to own.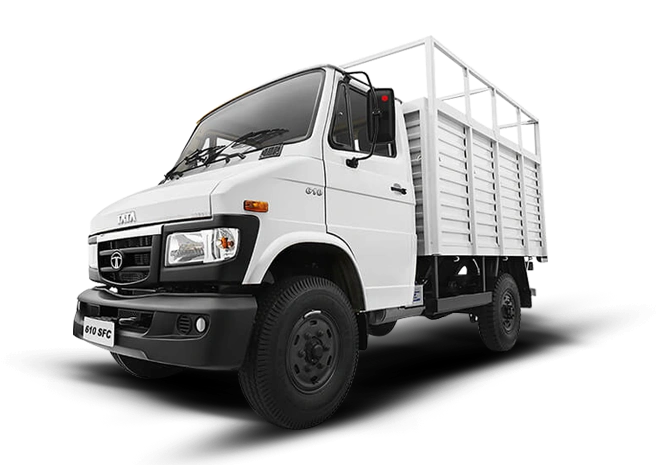 SFC 610 Features
Internal Connectivity
High Quality Music System with Blaupunkt Speakers and High Speed USB Mobile Charger
Banjo Type Rear Axle, More Load carrying capacity, lesser prone to leakage

Display Trip Indication, Fuel, DEF Level Indicator, Air pressure, Speed, Brake, Seat belt, Temperature, Fuel Economy, DPF Regeneration, time, Trip, SCR fault related indications, Gear Shift Advisor Etc.

The legendary 4 SPCR Engine improvements in BS6:
Max Power is 100 kW @ 2800 r/min, Increased by 18% for Better Turnaround
Max Torque is 300 Nm @ 1200 -2200 r/min , Increased by 20% for More Pulling Power
New H2LS Brakes for better efficiency. Helps in better control and easy to operate. H2LS brakes are maintenance-free and provide longer life.

Service Interval of 40 K KMs
Rear axle oil change interval is improved from 80k kms to 120K kms. Hub Grease change interval from 80 K to 120 K Steering oil change interval is improved from 80k kms to 120000 kms
Light Weight Loadbody with improved internal deck lengths

Low Hysteresis clutch along with high size clutch booster Lower Pedal Effort. Reduced effort by 40% over BS4

SFC 610 Specifications
Vaccum assisted- H2LS ; Auto Slack Adjuster

Single plate dry friction type- 280 mm dia

Electricals Battery: 12V, 100 Ah Alternator: 120 Amps

Front Suspension: Parabolic spring with rubber bush, 2 no Hydraulic Double acting Shock Absorbers with Antiroll bar, Rear Suspension: Semi elliptical leaf spring, 2 no Hydraulic Double acting Shock Absorbers

5 speed (5F+1R)
G400, 5 Speed, Manual Synchromesh Gearbox (5F, 1R), PTOP

8.25-16 16PRR, Front 2,Rear 2, Spare 1

Book Your SFC 610 Now
(Please note that our booking form is currently undergoing development. No live payment transactions could be performed currently. )