Overview
Tata 407 Gold SFC Pickup is a truck with gross vehicle weight of 4995 kg. The engine powering this Tata truck is 2956 cc 4SPCR, producing 100 HP of power and 300 Nm of maximum torque. The engine of Tata 407 Gold SFC Pickup truck is coupled with a 5 speed (5F+1R) gearbox offering superior mileage. This Tata 407 Gold SFC Pickup truck comes in 4x2 axle configuration. The wheelbase of 3305 mm, allows this Tata truck to offer load body length suitable for different kinds of applications. H2Ls Hydraulic Brakes, With Auto Slack Adjuster offer superior safety in Tata 407 Gold SFC Pickup and parabolic leaf springs, with telescopic shock absorbers suspension in front offers good ride quality.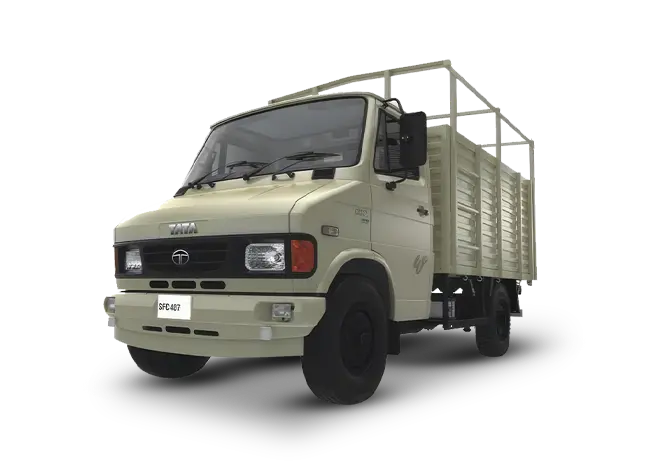 SFC 407 Features
The legendary 4 SPCR Engine improvements in BS6:
Max Power is 100 kW @ 2800 r/min, Increased by 18% for Better Turnaround
Max Torque is 300 Nm @ 1200 -220
Internal Connectivity
High-Quality Music System with Blaupunkt Speakers and High-Speed USB Mobile Charger
New Multi-Function Ergonomic Instrument Cluster, Other Tell Tale Symbol on the instrument cluster, Gear Shift Advisor in
Banjo Type Rear Axle, More Load carrying capacity, less prone to leakage
Service Interval of 40 K KMs
Rear axle oil change interval is improved from 80k kms to 120K kms. Hub Grease change interval from 80 K to 120 K Steering oil change interval is improved from 80k kms to 120000 kms
Low Hysteresis clutch along with high size clutch booster Lower Pedal Effort. Reduced effort by 40% over BS4
Display Trip Indication, Fuel, DEF Level Indicator, Air pressure, Speed, Brake, Seat belt, Temperature, Fuel Economy, DPF Regeneration, time, Trip, SCR fault related indications, Gear Shift Advisor Etc.

New H2LS Brakes for better efficiency. Helps in better control and is easy to operate. H2LS brakes are maintenance-free and provide longer life.
Light Weight Loadbody with improved internal deck lengths
SFC 407 Specifications
Brakes Type Hydraulic H2LS

Cabin Type Day Cab
Clutch 280 MM
Engine 3.8 SGI BS6 4 Cylinder
Engine Type 4 Cylinder; SGI Technology with Skip Fire Mode for Higher Mileage
Gear Box Ratio 1st- 6.45 ,Rev- 6.26
Power 62KW @ 2500 r/min
Rear Axle Ratio 4.125
Torque 285 Nm @ 1200-1600 r/min

Front Tyre : 7.50 R 16 - 16 PR Radial
Rear Tyre : 7.50 R 16 - 16 PR Radial
Suspension - Front Type : Parabolic Leaf springs & Hydraulic double acting telescopic type shock absorbers with Antiroll Bar
Suspension - Rear Type : Semi elliptical leaf spring & Hydraulic double acting telescopic type Shock Absorber

Deck Length(mm) :3048
Long member Size (mm) (LxBxH) : 180mm x 55mm x 5mm
Seating Capacity :D+2
Variants :CBC,FSD,HSD
Warranty : 3 Years/ 3 Lakhs Kms
Wheel base (in mm) :3305

FAW (in Kg) : 1940
GVW (in Kg) :4995
RAW (in Kg) :3055

Book Your SFC 407 Now
(Please note that our booking form is currently undergoing development. No live payment transactions could be performed currently. )